By John Goff/ Preservation Perspective Aug 29, 2008
---
His name was Solomon or Sol Levenson (1910-2006). Born in New Jersey to parents of Russian and Ukrainian descent, he was the oldest of four Levenson children. The parents Harry and Sarah moved to Danvers in the early 20th century. Before World War I, the couple had a shop on High Street in Danvers where Harry was a tailor and Sarah a seamstress. Family lore maintains Sol started painting in 1915 when he was 5 years old. He used to draw on the wall in his father's tailor shop.
Yet the artist himself recalled producing a portrait of Charlie Chaplin at age 4 1/2. In 2005, one historian wrote "Even though he's pushing the century mark, [Levenson] still remembers his very first drawing — a pencil sketch that he did from memory of Charlie Chaplin on a storefront theater poster. He was 4 1/2. 'I did it,' he says, 'so I could take him home.'"
Widely considered a genius, Levenson graduated from Holten High School in Danvers at the age of 15. His life and career were later noted by Time magazine in 2005, at which time Sally Abrams wrote: "Much of Levenson's work depicts old-fashioned working-class life — people felling trees, mining a granite quarry, repairing locomotives, working a farm. That reflects his own blue-collar background in Danvers, Mass. His Russian-immigrant parents were poor, but his mother, a seamstress, and father, a tailor, bequeathed good genes to Levenson and his three younger sisters. … Levenson, who yearned to be an illustrator, was able to attend the Massachusetts College of Art but left during the Depression. The only work he could find was shining shoes, working in ditches installing water pipes, felling trees and stripping hides in a tannery. After landing a job during the New Deal with the federal Works Progress Administration, he helped paint two historical murals in Danvers, one depicting the battle of Bunker Hill … From there he became a draftsman at an electric company in Ipswich, Mass., a greeting-card designer in Long Island City, N.Y., an illustrator and graphic designer in Boston and an art teacher at a vocational high school in Quincy, Mass. But on weekends, throughout all his job changes, he faithfully plugged away at portraits, landscapes and other kinds of painting."
Levenson's Salem connections likely began about the time he started courting his first wife, Evelyn Freedman, (born about 1911) who grew up at 20 Crombie St. in Salem. Evelyn was the eldest daughter of Beatrice and Myer or Meyer Freedman, who worked in 1920 as a railroad ticket agent. Sol's uncle Casper also resided at 20 Crombie St. with his own family, and Casper Freedman worked as a "general purpose" tailor. Band concerts also drew Sol to our Witch City.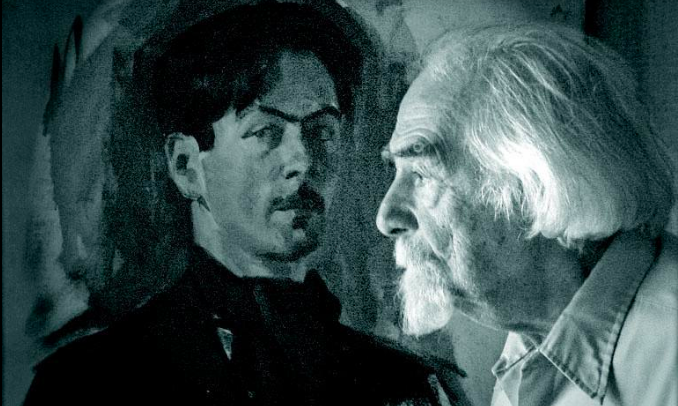 Historians noted: "Weekends were devoted to his painting, though Levenson was multicultural as well. A musician, as well as an artist, he also played the violin and served as conductor of the first Dick Putnam band in Danvers. According to the late David Knowlton in 'Onion Soup,′ his book about Danvers, the band was playing in a competition in Salem. Levenson, sitting in the audience, realized the local Danvers band was at an unfair disadvantage. During intermission, he went to the men and offered to take over as conductor. Whatever he said and did was so successful, from then on Levenson was the band's permanent conductor. … Quoting Levenson, Knowlton wrote, 'I held a verbal rehearsal, described what I wanted and we went out there and I coaxed, wheedled, cajoled and smiled and waved and stomped and had a great time … they became the best band I ever fronted — even compared to some more professional bands I had worked with before.'"
Sol Levenson is best known for a series of large murals he painted at the Dartmouth Hitchcock Medical Center in Lebanon, NH. It has been written, " Since 1990, [Levenson] has completed more than 15 historical murals — most of them at DHMC. They depict Shakers felling trees and lathing the wood into pieces of furniture, Herbert Hoover giving a whistlestop tour, a horse-drawn fire wagon rushing to the rescue, and railroad workers repairing a locomotive."
It is possible Sol Levenson also studied under the great Impressionist artist Phillip Little while he worked and visited Salem. While a student in Boston, Levenson became acutely interested in works by Winslow Homer, Thomas Hart Benson and Philip Little. In later years, Levenson was inspired greatly by the Mexican muralist Jose Clemente Orozco.
Levenson also taught painting in Mexico and Colombia, won multiple Fulbright fellowships and wrote a book on the history of drawing. He was considered "perhaps the last surviving artist from the depression-era WPA public employment program."
At 6-foot-3 in height, he cut a tall path everywhere he walked and in the world of art. Sol Levenson, mural maestro, is gone now but not forgotten.
John Goff is the president of Salem Preservation, Inc., a nonprofit organization. He is also the principal of Historic Preservation & Design, a consulting business.
---
Pat Eastman interviews muralist Sol Levinson